©Ann Pocklington annpock@btinternet.com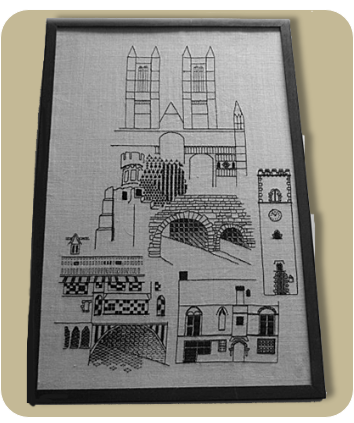 I know it sounds a bit like an Oscar acceptance speech - but I would like to thank my mother and my grandmother for encouraging me to sew - and my grandfather for teaching me to knit. My attempts at knitting were so bad that they had given up on me - but my grandfather had learned to knit so he could do occupational therapy with a Royal Army Medical Corps tent full of wounded soldiers in his care in Thessalonica in 1916. He had the patience to teach me and together we recited 'In, over, through, off'!
My grandmother knitted this dress - and I found a pair of scissors. A snip, a pull and a more lacy patterned skirt, a snip, a pull - until I was wearing a bodice - a first experiment in what you can do with yarn!
Very soon I was working iron-on transfers in embroidery silks, the beginning of my sewing journey which I describe in my talk ''From Crinoline Ladies to Soldering Irons'.
About 30 years later I had the good fortune to teach with Sue Lancaster, who bullied me into doing my own designing. Terrified of drawing but owning a book on the old buildings of my home town of Lincoln, I plotted these on graph paper and stitched them in blackwork, learning about shading as I went.
I found the talented tutors of Living Threads, based in Risley and the soldering irons, glue guns, machine embroidery into sheet metal and feeding my computer printer with tapestry canvas were soon to follow.
Traditional Stitching to Mixed Media