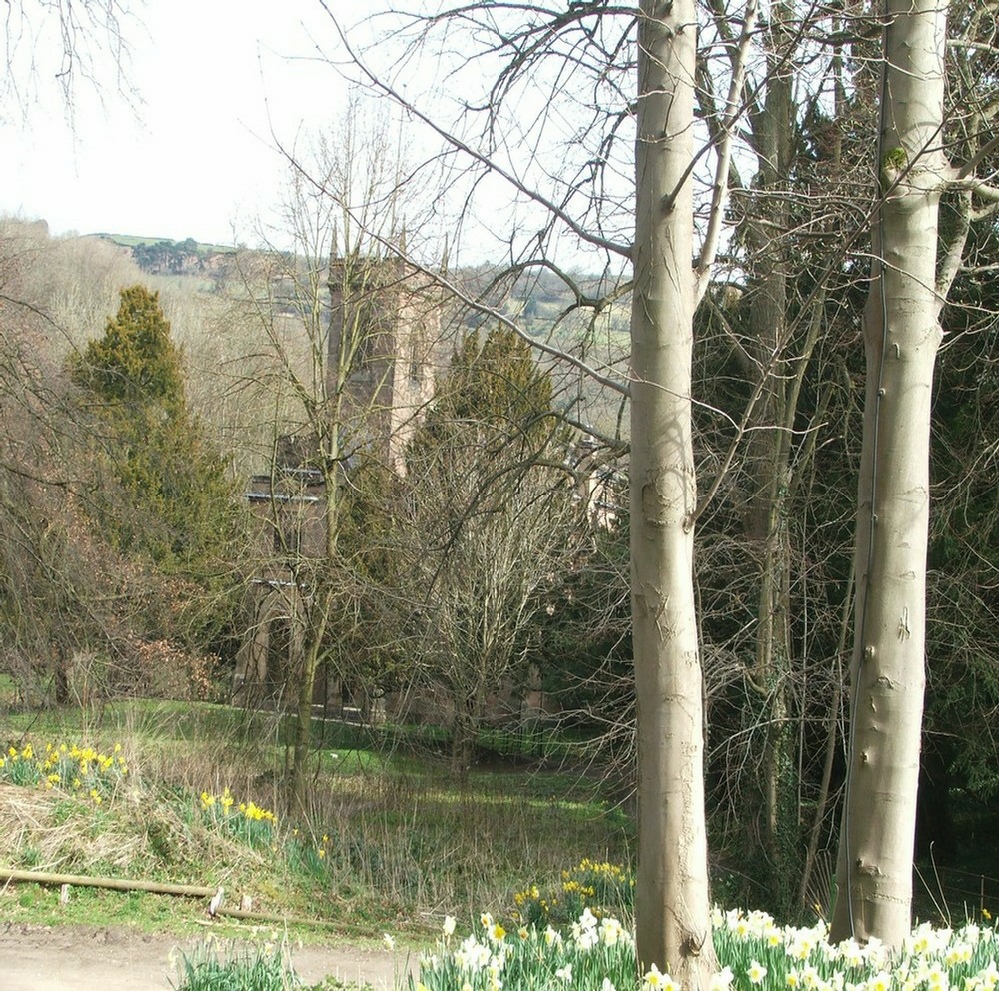 CromfordWI@btinternet.com
Ann Pocklington © All rights reserved. It all began in Ontario
In the summer of 1889, Adelaide Hunter Hoodless lost her 14-month-old son, John Harold Hoodless. His death was believed to be the result of drinking contaminated milk at a time when it was often tainted from a variety of sources beginning on the farm through to the home delivery of uncovered and unrefrigerated containers. His mother was horrified that his death could have been because of her own ignorance of domestic hygiene, so she began a tireless campaign for the education of girls and women in household management, by promoting domestic science education in schools. In 1896, she spoke at a conference at the Ontario Agricultural College in Guelph and made a lasting impression on Mr. Erland Lee. In Februrary of 1897, he invited her to speak at his Farmers' Institute Ladies Night meeting in Stoney Creek, Hamilton, on Lake Ontario and there she suggested that a group meeting to broaden the knowledge of domestic science and agriculture as well as to socialise could benefit rural women. Only a week later 101 women attended at the first meeting of the Women's Institute (WI) - along with one man, Erland Lee! Whilst Adelaide's vision is the foundation of the WI, its existence is equally attributable to Erland Lee and his wife, Janet.
The first WI meeting in Great Britain took place on 16 September 1915 at Llanfairpwll on Anglesey in Wales. It was originally set up to revitalise rural communities and to encourage women to become more involved in producing food during the First World War. It now enables women to gain new skills, take part in wide-ranging activities and campaign on issues that matter to them and their communities - both rural and urban.
The WI supports the Associated Country Women of the World, (ACWW). The ACWW offers mutual support, friendship and practical help to women and communities in over 70 countries.
Now, 100 years on,
the WI is the largest voluntary women's organisation in the UK with around 212 000 members in 6 600 WIs, each independent but part of the National Federation of Wis (NFWI).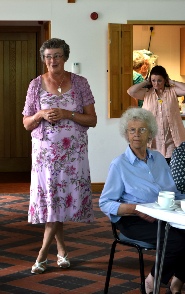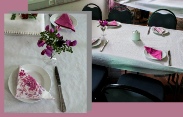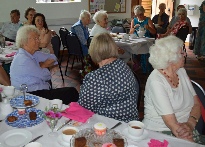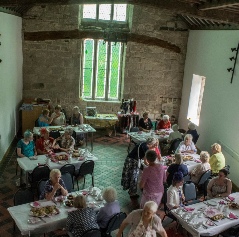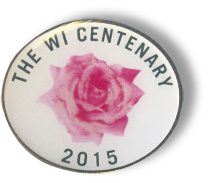 CROMFORD WI CELEBRATES THE WI 100th ANNIVERSARY IN THE UK

President Christine Levasseur welcomed members and guests to an elegant afternoon tea in the Tudor St Margaret's Hall, Alderwasley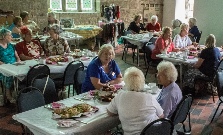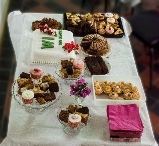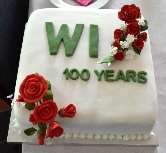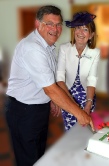 Ken Levasseur helped our guest of honour, Derbyshire Federation Chairperson Chrissie Booth, cut the beautiful anniversary cake he made for us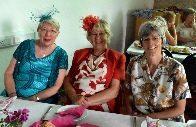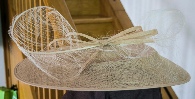 ... and Judy's lovely Buckingham Palace Garden Party hat came too!
As usual, the kitchen was the key!